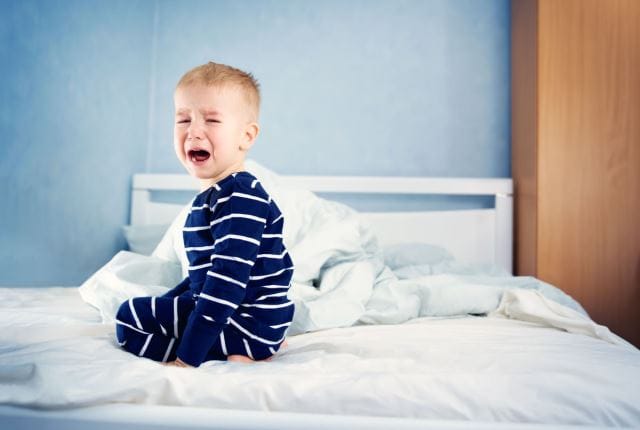 Symptoms and Signs of Bedwetting
Last Updated on February 17, 2023 by chummie
Bedwetting is medically known as nocturnal enuresis. It refers to the unintentional passage of urine during sleep. Nighttime wetting is common for many children due to slow physical development, an illness and especially when it runs in the family. Bedwetting in children is mainly because they sleep deeply and not be roused by urges to urinate.
There are two main types of nocturnal enuresis; primary enuresis and secondary enuresis.
Primary enuresis is where a child still wets the bed after age 5 or 6. It is often hereditary. Possible causes of primary enuresis are delay in maturation of bladder control or when a child is constipated which can injure the nearby urinary sphincters, muscles that control flow of urine out of the body. Some children are deep sleepers, so they are less aware to get up when they need to urinate. They may have high nighttime urine volume too.
Secondary enuresis occurs when a child who had stopped bedwetting for at least six or more months starts wetting again, often due to emotional stress or a medical condition. Secondary bedwetting can be a sign of an underlying medical or emotional problem such as urinary tract infection (UTI), diabetes, abnormalities in the nervous system, emotional or neurological problems. Excessive fluid intake in the evening can be the other reason for bedwetting.
It is mainly a bladder control problem which causes daytime wetting or nighttime wetting. To know that your child has conditions that causes daytime wetting are when they feel to go to urinate often with urine leaks or have not fully emptying the bladder during bathroom visits. Many children habitually ignore the urge to urinate and put off urinating if they possibly can. They empty their bladder few times instead of making more frequent visits to the bathroom. To avoid having wet or stained underwear they do leg crossing and squatting.
Rare possible causes for bedwetting are ADH (antidiuretic hormone) a hormone that causes the body to retain water. Normally, ADH levels increase at night to decrease the amount of urine produced. Children who have bedwetting problem do not have increased ADH levels at night that causes greater urine production, which can lead to bedwetting.
Bedwetting children feel shame and lowered their self-esteem. They avoid sleep overs, and their school performance are being significantly affected. You and your child can work together to find the nighttime wetting management technique that works best for you and your family. There are natural ways to Stop Bedwetting like not to give lots of fluid or caffeine (like chocolate or cola beverages) to children before bedtime instead give most of the child's daily fluid in the morning and early afternoon. The other thing that can help wetting the bed at night is to encourage your child to urinate before going to bed.
Another most effective treatment to stop nighttime bedwetting is a bedwetting alarm. They help children over six year of age to overcome bedwetting completely. Bedwetting alarms build brain – bladder connection that helps a child get up before they wet the bed. Alarms become effective for most children after they have been used for 8-12 weeks. For successful treatment, the child must be motivated, and the parents must be willing to help. Visit the Chummie store for for big variety of bedwetting alarms, waterproof mattress pads, urine stain removers and bedwetting solutions that suit your need.