Shipping and Delivery
Our goal is to get the Chummie bedwetting alarm products out to you as soon as possible. We ship from our products alarms from fulfillment centers in California. All bedwetting order shipments are subject to product availability and complete customer order, billing and shipping information being received by Theos Medical Systems, Inc. Shipments are also pending weather restrictions or natural disasters.
How Much Does Shipping Cost?
We offer many different shipping methods including USPS and couriers (FedEx/UPS/DHL) to ship both domestically within USA and internationally. Shipping rates are calculated automatically at time of checkout. To see the relevant rates, add the item(s) to your shopping cart and you will see the rates both when you view your cart and at checkout.
When Will My Order Ship?
The bedwetting alarm information table will provide information on when your order will ship.
Day Order Placed (before 5pm PST)

When it will ship*****
(for MOST items)

Monday
Tuesday
Tuesday
Wednesday
Wednesday
Thursday
Thursday
Friday
Friday to Sunday
Monday
Note: Domestic express and overnight orders must be placed by noon PST for shipment on the same day. Express and overnight orders received after noon PST will be shipped the next business day.
When Will I Receive My Order?
The map below provides information on when you will receive your order. Shipping times only apply from the date and time that the order was shipped. Shipping times do not include customs delays. Shipping charges are calculated based on a number of different things such as:
The weight, size and number of products that you have purchased.
The shipping option you select – i.e. get it faster, standard or express.
Your zip code.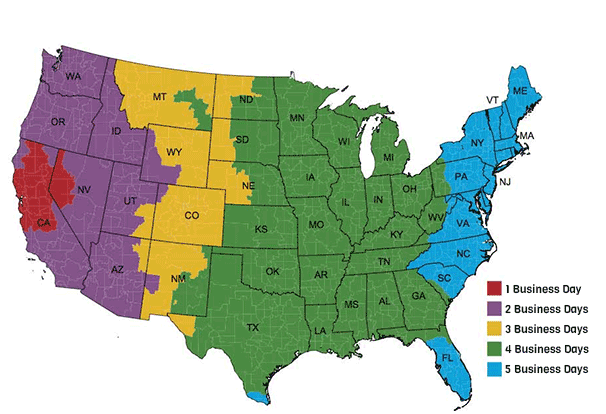 Insurance
All shipments with orders over $150 are automatically insured.
International Orders
We ship all of our products form the Chummie Store to international locations using wither USPS, FedEx, UPS or DHL. International customers are responsible for customs dutues, VAT charges or any fees for importing to your home country. Theos Medical Systems only covers the shipping costs.
Cancellations
Cancellations must be made via email request to or phone at (408) 239-4050
Your order can only be cancelled before it ships. See the table above for estimated ship times based on when you place your order. Cancellations made after the scheduled ship time are not guaranteed and may not be accepted. Orders that have not processed and shipped will be fully refunded.
Orders that have shipped cannot be cancelled and will need to be returned. See our returns policy.
Theos Medical Systems, Inc. is not responsible for late cancellation notices and the customer will remain liable for all product and shipping and handling fees.